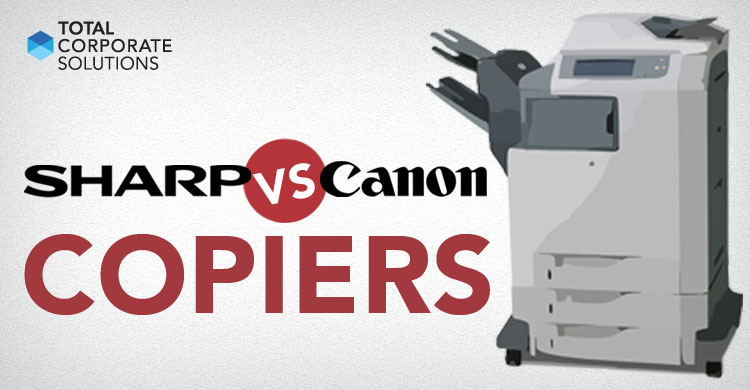 In the world of high efficiency and high quality office equipment, Sharp and Canon are both leaders in the field. This is not only due to the innovations in technology that have gone into producing durable and also versatile copier systems, but also the conceptual development of better integration with exiting workplace practices and protocols. The result is two supplier who give companies the ability to maximize productivity through improving work stream flow.
However, regardless of whether a business is a large or small operation, the investment in office equipment can still be a large decision. Committing to one brand over another can come down to individual needs, but this can also be difficult when both Sharp and Canon have a variety of positive points that can make them attractive. In this case, evaluating the truly distinguishing factors and seeing how this fits with corporate operations and goals for expansion can better inform the decision.
The Good and Bad of Canon
Although Canon's partnership with Xerox does mean that parts and replacements for equipment are highly available and interchangeable, this is for tangible and mechanical components of the machines. Software integration across Canon equipment does lead to an easier means of operating the equipment, but overall systems integration is somewhat lacking in software patches.
However, Canon does present three impressive lines of office copiers, including:
i-SENSYS – these models of copiers are multifunctional laser printers that can also scan, fax, and copy. Networking between printers in this line can improve functionality and the speed for producing double sided documents from any source.
PIXMA – these are inkjet printers and all-in-one copiers. The most impressive feature for this line is that they come preloaded with software that will monitor the quality of print outs, to ensure that less resources are wasted on bad copies.
imageRUNNER – this line includes Canon color printers, for high resolution and vibrant graphics. As this line of printers runs on the small side, they can be ideal for small offices that do not have much space, but still require high capacity printing.
Overall, these three offerings from Canon do meet basic business needs and have some value added technology features to cut down on waste and to improve productivity. Each of these lines deliver strong functionality as versatility in application can reduce the need for excess equipment. Canon printers are also known for being able to produce clear and consistent resolution even at high copy speeds and volumes.
This is also a function of the energy efficient technology that reduces power consumption, even when the machine is being run constantly. Further, the control panels for all three models are also easy to operate, and this reduces the learning curve for employees but also nearly guarantees foolproof operation.
However, two main issues with the Canon line can be a sticking point for both large and smaller businesses. The first consideration is cost, as Canon printers tend to be on the more expensive side, and even with lowered energy consumption over time, the fiscal gains may not be apparent. This also means that smaller companies may be unwilling to make this immediate investment, especially as only one of the Canon printer model is actually space effective for a limited sized office.
The second issue with the Canon printers is something that any business will want to consider, and this is in regards to network integration. Although proprietary drivers in the equipment allow them to be linked to the office network, this does not include features such as full remote administrative capabilities and auto maintenance through the manufacturer, for machine service and IT trouble shooting.
The Good and Better of Sharp
As a company, Sharp expanded from the invention and patenting of the first mechanical pencil to becoming a technological leader that is highly focused on the interconnected aspects of life and business. To this end, a strong focus for their current copier lines is to make them more functional, more intuitive, and more scalable with hardware and software advances that seek to capitalize on the cooperation between human and equipment resources.
All of Sharp's copiers are multifunctional printers, although this does extend beyond simply copying, faxing, printing, and scanning. While Sharp copiers can link to the company network, just as Canon copiers will, they can also be integrated with existing operating systems to allow for remote administrative controls, work flow prioritization from designated terminals, and touch screen editing for images at the copier control panel. This greatly increases the versatility of the copiers, but also gives owners the ability to monitor productivity of employees.
The Sharp models that incorporate these features include:
Production MFP – these are large volume high speed copiers that are ideal for large facilities that need many black and white prints.
Small Office MFP – while this is also monochromatic multifunctional printer, it is designed to specifically meet the space and work flow needs of smaller business that is growing.
Office MFP – these copiers have the option for color and black and white output, with the same strong quality printing that can also keep up with larger orders.
Along with the integrative networking benefits of Sharp copiers, these machines also provide a better cost value than Canon printers. This is not only in the initial investment, but also through automatic alerts for supply replenishment and through more special features at a lower price than high end Canon models. Sharp copiers also offer long-term savings through cutting down on operational costs, with a shortened warm up and cool down time on all their equipment.
Further benefits with Sharp include the way company networks and existing Sharp copiers can also be linked to other Sharp business tools, including the Aquos Board. The result is that redundancy in work projects is reduces, and information can be easily disseminated and shared with appropriate staff member to keep the work flow moving.
While the investment in new office equipment may feel like a big one, it can often be the smaller differences in companies that can help to guide the best option.